Accutek Packaging Equipment Companies, Inc. is one of the largest privately held packaging machinery manufacturers in the United States. We are a leading developer and manufacturer of complete turnkey packaging solutions. Accutek Packaging Equipment offers a wide variety of packaging equipment that can be custom tailored to each unique product, including filling machines, capping machines, labeling machines, conveyors, and complete packaging systems. Other equipment manufactured by the Accutek companies includes bottle unscramblers, bottle rinsers and washers, sleeve labeling machines, tamper-evident neck-banders, heat tunnels, tube fillers and sealers, heat sealing machines, hot stamps and ink jet date coders, conveyors, turntables, kettles, mixers and other support packaging and process machinery.
To provide a high-quality, easy-to-use, complete line of packaging equipment to support the operations and growth of our customers' unique products while supplying our equipment free of deficiencies, and in a timely manner.
"We will supply the highest quality packaging equipment while maintaining customer support, promoting product innovations, and continuously providing fair and competitive pricing."
Accutek engineers are always working to modernize and simplify our designs giving our customers a competitive edge with the most efficient, technologically advanced packaging equipment. Our diverse line of equipment has been engineered for products in the food, pharmaceutical, oil, cosmetic, chemical, and other specialty industries. All our equipment is constructed from the highest quality materials and made with the highest quality workmanship. We work with programmable logic controllers, VFD drives, vision electronics, and pneumatics to achieve the fastest filling, capping, labeling, and conveying speeds at the most accurate pace possible.
We understand each customer may have unique packaging requirements; we can customize machinery to accommodate your product and even work with your existing packaging line. Once our engineers evaluate your products, our experienced staff will discuss the wide range of packaging equipment options available. We will then consult with you to determine which automation system best suits your needs.
Technical Support and Customer Service
Qualified, skilled technicians are available for trouble shooting and problem-solving to ensure your packaging line is up and running smoothly. All our equipment includes a one-year warranty on non-wear parts and labor. Extended warranties are also available. Standard equipment can often be shipped within two weeks of the purchase date. Most replacement parts are stocked and can be shipped within 24 hours of placing your order.
We take cleaning seriously. Our machines are designed to be easy-to-use, clean, and well maintained. Most of our equipment is crafted from food grade stainless steel and other food grade materials. All our conveyors are constructed of food grade stainless steel and have elevated conveyor beds for easy wash down. Convenient "clean-in-place" processes and procedures are available for most of our equipment.
Accutek Packaging Equipment Company, Inc. was founded in 1989, by serial entrepreneur Edward Chocholek and his sons. The business opened under the name Accutek Filling Equipment Company. Mr. Chocholek noticed that the price of Programmable Logic Controllers (PLC's) and Pneumatics for automation had dropped to the point where they would soon replace single point mechanized machinery. No industry had more single-point, cam-driven machinery being sold in the 1980's than the packaging industry. The packaging industry had been dominated by mechanical engineering that was clearly going to be rapidly transformed by the onslaught of electrical engineering, automation, and programming. After much research, he convinced his sons to join him, and Accutek was born in Los Angeles, California. As it turned out, it was an ideal time to enter the industry because the barrier to entry had dropped significantly while established packaging machinery and engineering companies struggled to replace and rethink their legacy systems. At that point, Accutek Filling Equipment Company's primary focus was bench top liquid filling, capping, and labeling machines. Our first filling machine was called the Mini-Six. The MiniSix was a six-head time pressure filler primarily used for filling cosmetic products such as perfume, aroma therapy liquids, essential oils, and other thin and light oils. It was later replaced by the Mini-Pinch filler which is still one of our most popular fillers today. By 1993, we were manufacturing complete in-line bottling systems running at speeds of up to 80 bottles per minute and had outgrown our facility. The Greater Los Angeles area had many industrial buildings available, but all were in questionable neighborhoods with high rents. We decided after the riots in Los Angeles that maybe a further move was in order. After only one visit to San Diego, we decided that Oceanside California at the north end had everything we needed including proximity to our vendors. We began a search for our ideal facility and had found one within a month! We opened our new, 10,000 square foot facility before the year ended and began hiring new and additional employees. Along with the move, we changed the name of the company to "Accutek Packaging Equipment" to better reflect our growing product line. The move allowed us to grow very quickly, reaching sales of five million by 1995. This achievement led to the design of our first custom facility made to manufacture packaging machinery. We built a modern manufacturing facility in Vista, California that was completed in 1997 that allowed for dedicated part control, lab, showroom, CNC machine center, welding, sheet metal fabrication, along with customer acceptance testing and shipping areas. This facility gave us space to develop more equipment and the efficiency to become even more competitive. By 2000, we once again doubled our sales and decided the fastest way to expand our product line was to purchase some of our competitors' businesses. We looked for companies that would add to our product line, engineering staff, and sales channels.
In 2001, we acquired the Labelette Company which had sold thousands of bench top and in-line labeling machines all over the world for over fifty years. We promptly merged their labeling machines and engineering team with our own product line. The Labelette purchase allowed us to expand our line of labeling equipment. Labelette's primary focus was and still is, labeling and bottle decorating machinery. To be more specific, they are one of the best-known names in the engineering and manufacturing of bench top hot melt glue labelers, automatic pressure-sensitive labeling machines, and full-body Shrink-Sleeve labeling machines.
In 2001, Accutek purchased the assets of Kiss Packaging Systems, Inc. With the Kiss Packaging acquisition, Accutek acquired a name brand that stood for quality engineering and simplicity. Kiss Packaging had been manufacturing several competing designs to our own as well as a few new machines that complimented our growing product line. We continued to support their product line while incorporating the best of their designs into our own product line. Several machines were modernized and still maintain the Kiss Packaging Systems name brand.
n November of 2001, Accutek purchased the assets of Gold Cup Machinery, Inc. Gold Cup is a machine manufacturer of cup filling and sealing equipment along with horizontal and vertical form, fill, and sealing machines.
In 2002, Accutek purchased American Packaging Products, Inc., and its Phase Fire brand of heat tunnels and shrink sleeve labeling machines. The Shrink Sleeving machinery was rebranded as Labelette, while the many heat tunnels designs remain as Phase Fire. Phase Fire tunnels include steam, infrared, and radiant heat with multi-zone control to shrink all types of film.
Biner Ellison/ Labelmatic
In 2003, Accutek purchased Biner Ellison in Los Angeles, California. The Biner Ellison purchase gave us a quality brand name that had been delivering bottling equipment since 1938. Biner Ellison added high-speed rotary filling and labeling equipment and expertise to our product line. Labelmatic is a machine manufacturer of high speed labeling equipment. In 2004, we moved Biner Ellison to a new 65,000 square foot facility in Vista California designed for manufacturing from the ground up.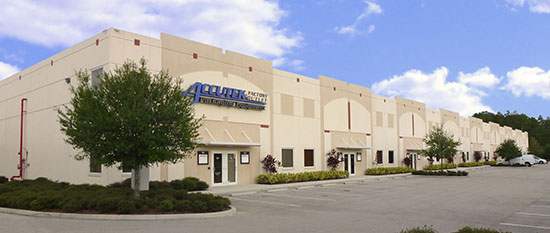 In 2010, Accutek Packaging Equipment Companies opened our first Accutek Outlet, providing hands on demonstrations in our showroom and service center in Fort Myers, Florida. This new location is a great opportunity for Accutek's East coast, Caribbean, and South American customers to visit our showroom and see live demonstrations of their products working on our equipment. In addition, we can troubleshoot and service nearly any packaging machinery.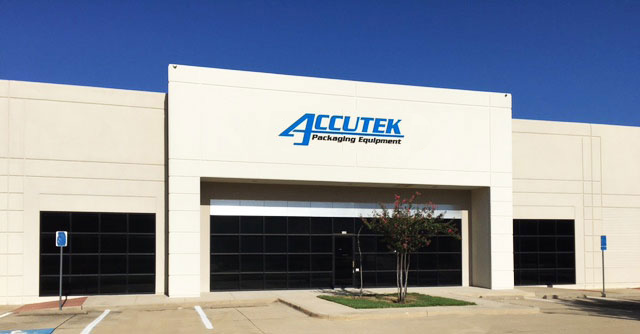 Accutek Packaging - Midwest
In 2015, to better service our Midwest customers, we added a new and modern 34,000 square foot manufacturing facility in Irving, Texas to manufacture labelers, net-metering drum fillers, and related equipment. This facility has a showroom with live demonstrations of our products and technicians to provide local service of packaging lines.
Going forward, we will complete a move to new Enterprise software along with designing a new CRM around our customers and their needs. These plans will allow us to develop and use new tools to deliver our customized products even faster than we can today. We, along with our dedicated staff, look forward to continued growth and success for decades to come.