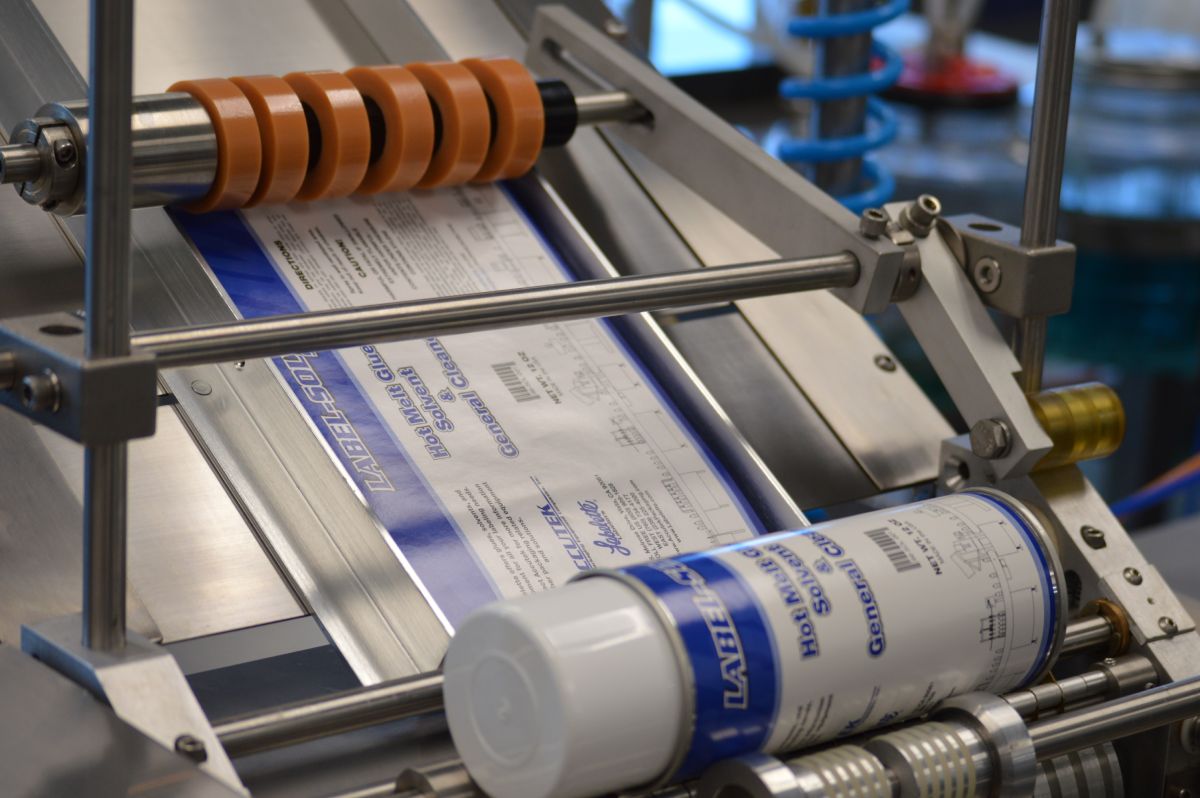 Accutek's hot glue labelers represent a pinnacle of precision and efficiency in the realm of labeling solutions. At Accutek, we specialize in crafting cutting-edge labeling machines, with a particular focus on Labelette hot glue and skip glue labelers. These state-of-the-art machines are expertly designed for the precise application of paper labels onto cylindrical containers, offering businesses an invaluable tool for streamlining their labeling processes. Accutek's commitment to innovation ensures that all labelers are equipped with the latest technology, guaranteeing consistent and reliable label placement while minimizing waste. With the Labelette hot glue and skip glue labelers, Accutek empowers companies across various industries to enhance their product packaging and presentation, ultimately contributing to their overall success and customer satisfaction.
HOT GLUE LABELING MACHINES FOR SALE
The Labelette HG Labeler will index labels, transfer adhesive, and accurately apply a plain paper label to a container.
The Labelette HG Labeler will index labels, transfer adhesive, and accurately apply a plain paper label to a container.
WHY CHOOSE ACCUTEK'S HOT GLUE LABELERS
PRECISION LABEL APPLICATION
Accutek's labelers ensure precise and error-free label placement on cylindrical containers, resulting in impeccable product presentation and enhanced brand image.
HIGH EFFICIENCY
Engineered for high-speed labeling, these machines significantly boost production rates, allowing businesses to meet market demands effectively and efficiently.
VERSATILITY
Accutek labelers can accommodate a wide range of container sizes and shapes, providing businesses with the flexibility needed to label diverse product lines while minimizing equipment costs.
EASY SETUP & CHANGEOVER
Quick and user-friendly changeover procedures reduce downtime when switching between different label sizes and container types, maximizing operational efficiency.
DURABILITY
Constructed with durable materials, Accutek's labelers offer long-lasting performance with minimal maintenance requirements, ensuring cost-effectiveness over time.
CONSISTENT LABEL ADHESION
Hot glue labeling ensures labels adhere securely to containers, even in challenging environmental conditions, ensuring label integrity and product quality.
IMPROVED PRODUCTIVITY
By automating the labeling process, Accutek labelers optimize labor resources, leading to increased overall productivity and reduced manual labor costs.
RELIABLE SERVICE & SUPPORT
Accutek provides exceptional customer support and maintenance services, guaranteeing uninterrupted labeling operations and offering peace of mind to users.
HAVE QUESTIONS ABOUT OUR HOT GLUE LABELING MACHINES?
If you have questions about our hot glue labeling machines, service, parts, prices, or locations, get in touch with us today. Our team is ready to help!