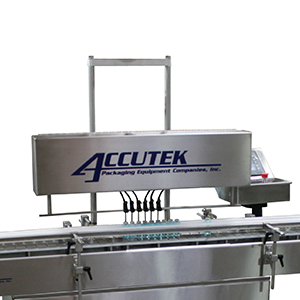 In the beginning there was a flavor. The flavor was infused into an e-juice for vaping. How to share this flavor with the world is the question. E-juice is often distributed in small bottles with a built in way to dispense the tasty product into vaping devices.
As a startup company everything is done by hand. Filling each bottle with E-juice by hand. Placing a closure on the bottle and then tightening by hand. Closures can be a dropper plug and cap, or a cap with dropper. Hand applying a pressure sensitive label to each bottle requires steady hands.
As a company grows and money becomes available for capital equipment each production task can be automated.
Task

Accutek Solutions

Fill each bottle

Place closure

By hand

Custom designed solution

Tighten Closure

Custom designed solution

Label bottle

Multitask machines

Custom designed solution
A set of the above machines can be connected together using conveyor belts and accumulation tables so that the entire process can be automated.
When space is at premium and speed is important consider going with a multi-tasking machine. Accutek is your source for product filling and packaging equipment at all budget levels.
Previous post
Accutek Packaging Equipment Co. Announces New Location in Texas
Next post
Accutek Pressure Sensitive Labeler Adjustments