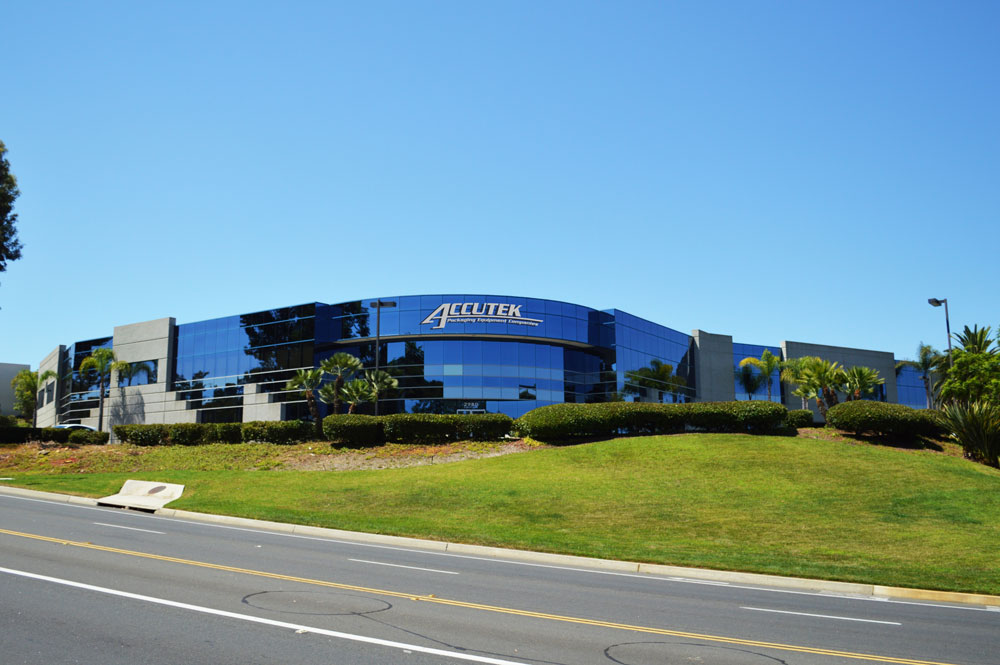 Accutek Packaging Equipment Company is Expanding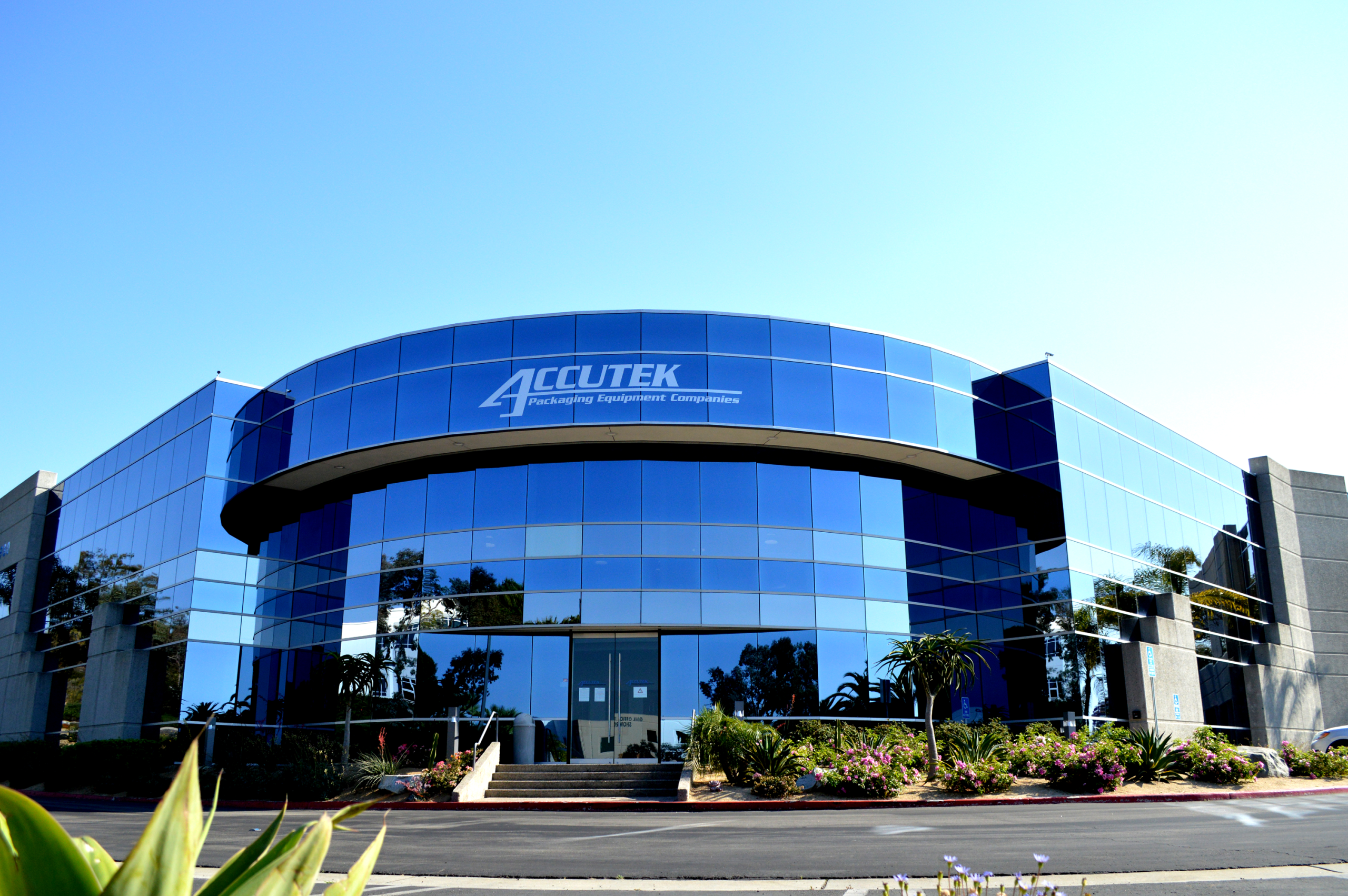 Accutek Packaging Equipment Companies are delighted to announce the expansion of the business to a 130,000 sq. ft building in Vista, California. This is due to consistent growth in the packaging industry where we are one of the leading developers and manufacturers of quality packaging machinery, including complete turnkey packaging solutions. The new location will be a great place to meet prospects, deliver high-quality packaging equipment and enable us to respond effectively to the growing needs of our various customers that are seeking to implement technology-oriented solutions in their business.
This new location will feature technical packaging equipment expertise with an in-house staff equipped to service sophisticated machinery, develop turnkey integrated packaging lines, and engineer automated systems. We will have enhanced capabilities to design complete production lines with a variety of packaging solutions and consult on high performance materials suited for a wide variety of applications to include:
Filling

Capping

Shrink Sealing

Labeling

Production line integration

We firmly believe that this expansion supports the growth and continuity of our business. We thank all our clients for their ongoing support throughout the years. Your business is what has supported the continued growth of our business. We look forward to welcoming existing and new clients to our new showroom for a look around, and we hope you will agree that it's a fantastic modern upgrade and expansion. Here's to our mutually successful future, from Accutek Packaging Equipment Company Inc.
Customers Benefits and Values
This new expansion will allow us to grow seamlessly delivering new technologies to market faster and more economically in support of our current and future customers. We've been fortunate to put together a great production team, an expert service department staff, a complete and extensive showroom facility and a well-equipped customer service center.
We are committed to delivering an exceptional customer experience, and this new location will ensure that we are providing the best value and highest quality packaging solutions to our customers.

Why we are expanding the company
We are obsessed with providing full service and high-quality turnkey packaging solutions to our customers. The expansion will feature:
Doubling machinery production in the next two years
Collaborative engineering department with 3D printing studio. A research and development lab to discover new ways of packaging advancing the state of the art.
New meeting rooms, lunchroom bar, and deli hang out

Treadmill exercise facilities

Bike racks

Solar powered and LED lighted facility with a cool roof and covered parking structure for more than 200 vehicles

Electric power stations for electric cars

Warehouse part expansion able to store twice as many parts with higher racking systems

Machine shop and metal forming get their own 15,00 sq. ft. enclosed space, that's four times the current space

Extensive showroom for demonstrating our machines in action
This expansion will show our commitment to progress in the industry, job growth in the area and providing excellent service and support to our new and existing customers. We are looking forward to the future!
New location address
2980 Scott Street. Vista, CA 92081
Worldwide
Accutek Packaging Equipment Company Inc. has a global reputation with offices in California, Texas, and Florida.
Where and how we excel
Founded in 1989, Accutek Packaging Equipment Company has been continuously growing and expanding. Accutek and its staff provide service and products to an ever-growing list of global customers in the Food & Beverage, Personal & Homecare, Pharmaceutical, and Chemical & Industrial sectors.
The Accutek Packaging Equipment Companies include the following brands:
Accutek, filling, capping, labeling, and material handling machineries

Kiss, packaging system's filling and capping equipment

Labelette, labeling machines

Biner Ellison, rotary fillers and cappers

Phase Fire, heat tunnels
For over 31 years, Accutek Packaging Equipment Company has delivered packaging systems to more than 25,000 companies nationwide and around the world. Accutek Packaging Equipment Companies are leaders in the packaging industry with an extensive product line, characterized by leading-edge designs, and a strong commitment to customer service. We in know that this new facility is another step towards our goal to live our company's vision statement:
We will supply the highest quality packaging equipment while maintaining customer support, promoting product innovations, and continuously providing fair and competitive pricing.
Our Mission, Our Vision, and Our Values
We are working to modernize and simplify our designs that will give our customers a competitive edge with the most efficient, technologically advanced packaging equipment. All our equipment is constructed from the highest quality materials and made with the highest quality workmanship. We work with programmable logic controllers, optical sensors, VFD drives, imaging sensors, and pneumatics to achieve the fastest filling, capping, labeling, and conveying speeds with the highest accuracy possible.
Beyond a passion for innovation and quality packaging solutions, we're equally obsessed with building a relationship that considers every aspect of your satisfaction. From the fairness and accuracy of an initial quote to providing you the highest possible quality service and support, just as necessary in following your project completion, Accutek Packaging Equipment Company Inc. works to earn your esteem and your loyalty.
Contact us today, and we will be happy to help with your packaging requirements!
For more information about Accutek Packaging Equipment Companies, click here or call us at 800-989-1828 or 760-734-4177.