Accutek piston volumetric filling machines are accurate within ± 0.5% when operated as recommended. Piston filler dose size is dependent on product cylinder inner diameter and piston travel distance. On the intake stroke the piston draws product from the supply source through the upper check-valve. On the return stroke the product flows through the lower check-valve to the nozzle.
Best accuracy is achieved by using a long stroke in a smaller cylinder versus a short stroke in a larger diameter cylinder.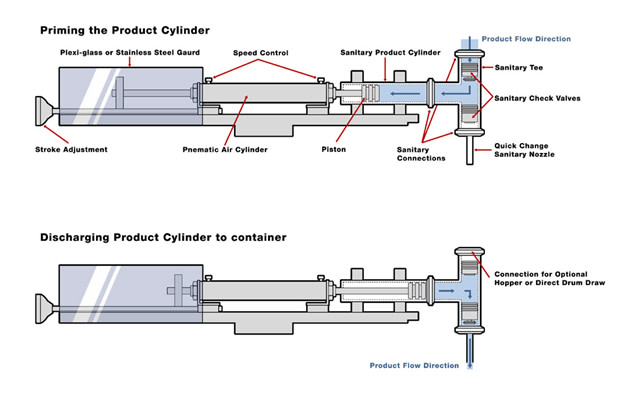 The filling speed is affected by these three factors:
– The piston draw speed depends on product viscosity and stroke length
– The piston exhaust speed depends on the nozzle and product characteristics
– The operator's experience
O-rings keep product from leaking around the piston as it moves back and forth. The O- rings are placed in grooves around the circumference of the piston head. The O-ring and tubing material must be evaluated for chemical compatibility with the product. The fill temperatures and product abrasiveness will also dictate the elastomer type needed. Some common types of elastomers used are:
– Fluoroelastomers
– Buna
– Silicon
– Encapsulated Silicon
– Teflon
Different types of products require different nozzle designs and sizes. The nozzles used for filling an ampule with 10 ml of thin fluid would not be appropriate for filling a five-gallon can with paint.
Laboratory testing with a number of different types of nozzles is needed to find the type and size nozzle that works best with a particular product. Each product requires a different nozzle configuration. For instance, a bubble forms at the tip of a nozzle when the nozzle diameter is matched to the surface tension of the product. This bubble prevents dripping at the end of a fill. In other cases a screen can be mounted inside a nozzle to prevent foaming.
Products compatible with SVF fillers
| | | | | |
| --- | --- | --- | --- | --- |
| Food | Personal Care | Chemical | Pharmaceutical | Other |
| Water | Perfumes | Candles | Plasma | Pet Food |
| Fruit Juices | Essential Oils | Wax | Urine | Pet Shampoo |
| Fruit Extracts | Nail Polish | Motor Oil | Alcohol | Fertilizers |
| Tea | Polish Remover | Ink | Iodine | Insect Repellent |
| Liquid Coffee | Lip Balm | Wood Glue | Saline Solution | |
| Vitamin Drinks | Liquid Soap | Silicone | Medicines | |
| Alcoholic Drinks | Sun Tan Lotion | Paint | | |
| Milk | Shampoo | Urethane | | |
| Tomato Juice | Hair Conditioner | Grease | | |
| Sour Cream | Hand Lotion | Window Cleaner | | |
| Salsa | Hair Styling Gels | Carpet Cleaner | | |
| Salad Dressing | Makeup Remover | Degreasers | | |
| Mayonnaise | Mascara | Stain Removers | | |
| Catsup | Eye Liner | Tire Sealant | | |
| Mustard | Facial Mud | Detergent | | |
| Food Coloring | Personal Lubricants | | | |
| Syrups | Personal Oils | | | |
| Cake Icing | Douche & Enemas | | | |
| Peanut Butter | Tooth Paste | | | |
| Soup | Mouth Wash | | | |
| Chili | Bubble Bath | | | |
| Cheese | | | | |
| Hot Sauce | | | | |
| Yogurt | | | | |
| Fruit Toppings | | | | |
| Jellies | | | | |
| Jams | | | | |
| Honey | | | | |
| Tartar Sauce | | | | |
| Vegetable Oil | | | | |
| Molasses | | | | |