Accutek spindle cappers use the latest technology to place and torque a wide variety of closure and container combinations. The spindle capper can place and torque flat caps, flip top caps, pull spouts, safety caps, child proof caps, sport caps, and caps with over-caps or induction seals. The spindle capper can handle almost any bottle type or shape including PET, PP, PVC, HDPE, LDPE, and Glass. The spindle capper does two things:
Organize and dispense caps.
Tighten the cap on its container. 
The spindle capper is mounted on a heavy-duty stainless steel "C" frame with casters. This allows the unit to be moved from one production line to another with ease. All contact parts used on the spindle capper are stainless steel or a FDA/USDA approved plastic or rubber.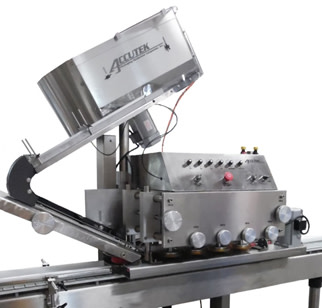 Accutek spindle cappers use a centrifugal orientation bowl. The bowl has a star wheel and air jets to orient the caps for their travel down the cap chute. A sensor in the cap chute controls the star wheel to keep the cap chute loaded. The end of the cap chute places a cap on each container as it passes underneath it. The star wheel and cap chute dimensions are unique to each cap. 
The tightener receives a container with a cap setting in place. The tightener holds and moves the container through sets of spindles that spin the cap closed and tighten it.
The tightener can be adjusted to accommodate various bottle dimensions. An up/down switch on the front panel changes the height of the spindle tighteners and red grippper belt.
The height and angle of the red gripper belts relative to the spindles can be changed to accommodate differing bottle shapes.  Use the two larger tighten knobs to adjust the distance between the gripper belts.
The smaller tighten knobs on the front panel adjust the distance between spindle pairs to accommodate different cap diameters. Each spindle is driven by its own motor. There is a speed control on the front panel for each pair of spindles. The individual speed controls facilitate accurate torqueing.
The spindle tightener is available without a capper when the customer wants to hand place caps.