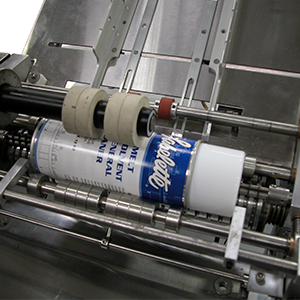 Since 1953 Labelette Labeling Machines have been around and have been manufactured with the highest standards. They are constructed of the highest quality materials and craftsmanship. Standard features included are a heavy-duty frame or stand, label guides that can accommodate a variety of different sized label stacks, full wrap around labeling, quick change over controls, and an easy use interface.
Labelette manufactures a variety of tabletop and semi-automatic hot-melt and skip glue labelers. These machines are designed to apply paper labels to cylindrical containers made of glass, metal, plastic, or fiber. They are a very cost effective solution for small startup operations, but also work well with a variety of other applications or businesses that require versatility. Customers can actually print up their own labels and apply them using one of these machines
Labelette's Glue Labeling Machines
Labelette's HG Hot Glue – Glue is melted and applied to paper labels just before being placed onto the container. The newly applied hot glue adheres to the label as well as the container. Hot glue labeling is a very cost effective method of labeling. Paper labels are much cheaper than pressure sensitive labels and shrink sleeves especially when purchased or made in lower quantities. Features include one knob adjustment for glue thickness and label thickness, digital thermostat for longer adhesive life in glue pan with the options of stackable container guide, cold glue kit and a 7-day timer.
 Labelette's SG Skip Glue – Like the hot-melt glue machines glue is melted and applied to paper labels just before being placed onto the container. However, only a small amount of glue is applied to the paper labels. It is only applied to the leading edges of the label, conserving or saving glue. This is beneficial for many reasons. Like standard hot glue labeling Skip Glue labeling is an economical method of labeling that provides rotary clutch for longer life and simpler maintenance and 360 degree rotary glue seals to keep glue in the pan. You have the option to synchronize registration for molded handles or lugs, multiple unique applications and thermal transfer label printing.
Labelette's FS – Semi-Automatic F-style labeling machines are hot glue labeling systems designed to eliminate the problems associated with labeling canisters and rectangular products. The FS Labelers are standalone labelers that apply paper labels to rectangular containers. These machines can accommodate both metal and plastic containers. With the hot glue machine you can customize can holders; you get a touch screen PLC control system, adjustable skip glue pattern and other feature that will propel your process.