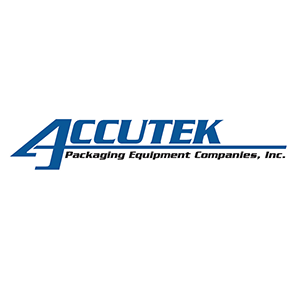 How to Package Your Product
The process of getting your product into a suitable container and on the shelf in an attractive container is complex. Accutek Packaging Companies normally enters the process after you have sample containers and their closure in hand. We offer a wide selection of powder filling or liquid filling machines. There are four filling technologies. One of these techniques will work for liquids that can be anything from thin petrochemicals to peanut butter.
– Timed flow fillers that deliver product for a digitally controlled time interval.
– Piston fillers deliver a measured volume of product.
– Overflow fillers fill the container to a specific level.
– Positive displacement fillers measure product as a function of pump rotations.
A closure or cap must be placed and secured on the container, once the product is in the bottle. Capping machines range from single cap hand operated cap tighteners to rotary chuck cappers.
Accutek also has a complete range of labeling machines, for pressure sensitive, hot glue and sleeving machines with heat tunnels that shrink labeling sleeves around the containers.
The filling machine that Accutek and you select depends on your product characteristics and the container you want to use. Other factors that enter into this decision are budget, production speed and level of operator training needed.
A simple liquid filling application might be filling essentials oils into small 30 milliliter bottles. A good choice for this application would be an Accutek Mini-Pinch filler that fills six bottles at a time. The caps can be hand placed and tightened with a hand held chuck capper. The pressure sensitive labels would be applied by hand in this entry level scenario.
This same company a year or two later could have a fully automated line. The empty bottles get loaded into a hopper. The caps are loaded into another hopper. The product supply tank is filled and the bottle labels are set up in a labeling machine. The operator starts the machinery and then watches the filled, capped, and labeled bottles collect on the accumulating turn table at the end of the line.
Accutek works with you to meet your packaging needs, no matter what your budgetary constraints might be. We have simple machines that are faster than filling bottles one at a time by hand. We also have automated packaging lines with multi-head rotary fillers and a selection of compatible capping and labeling machines.