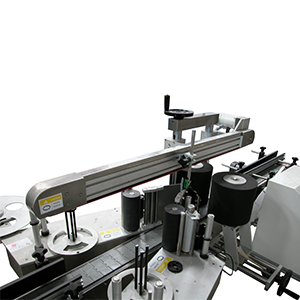 Pressure Sensitive Labeling Systems
Labelette is a leading designer and manufacturer of pressure sensitive labeling equipment. A wide range of customers from all types of industries, including, food and beverage, pharmaceutical, e-cig, cosmetic and house hold cleaning companies.
For projects requiring label placement or those that have a unique container, Labelette Labelers specialize in these systems. Top, bottom, cantered edge, and even vial labeling are all easily accommodated by one of the labelers at Labelette.
Pressure Sensitive labels are an economical way to brand, identify and track products and containers. They come in many shapes and sizes, are available on wide range of materials, and can be printed using a variety of methods. These automatic labeling machines can be applied to most types of packaging materials and don't so without the mess that can come from liquid glue labelers.
Each of Labelette's labeling machines are designed for different goals. Below, I will list the machines and some information on what each machine does.
Labelette's Pressure Sensitive Labeling Machines
APS 100 & 200 are highly reliable machines and easy to operate. Automatic Pressure Sensitive (APS) labeling machines are your ideal solution for pressure sensitive labeling of metal, fiber, plastic, and glass containers. The APS labelers can handle cylindrical and oblong containers. The speeds, versatility, and reliability are all components that Labelette takes pride in.
APS 134 Labeler is an automatic horizontal wrap labeler designed to label unwieldy round containers The label head for fully synchronized with the conveyor and can dispense labels up to 3" (7cm) tall. This machine is great for smaller containers.
APS 004 Labeler features an adjustable 4" (10cm) label head that is self-contained. It is capable of labeling at any angle within a 90 degree range and can convert from a side labeler into a top labeler. This machines unique feature is that it can roll up and be adapted to any existing conveyor in your line.
APS 104 Labeler is designed to top label containers with labels to a 6" tall and up to 11 3/4" long. This machine comes equipped with a height adjustable 4 ft. variable speed belted conveyor, a stopper motor drive for label dispensing, power assisted web take up, full tamp station, auto speed adjust (all motors) and photo eye (non-contact).
APS 236 Labeler is a specialized two headed labeler for top and bottom applications. The easy to use design makes it simple to change container and label sizes. Due to its split conveyor design it has the ability to label the top and bottom of the container at the same time.
These machines are technically used to place stickers on containers. Different types of sticker labeling machines are used in most of today's container labeling process.