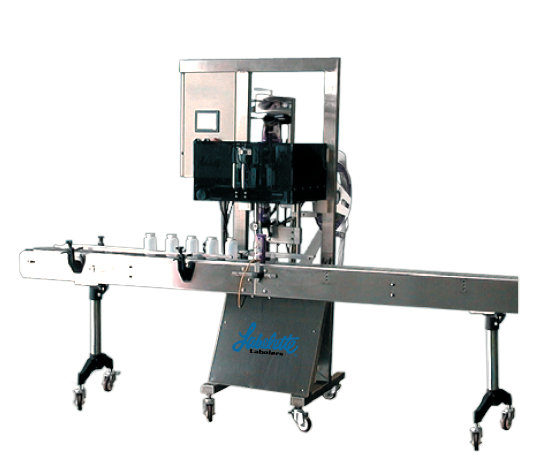 Labelette SL Shrink Sleeve Labelers have flexible film shrink sleeve labels placed onto bottles using a sleeve applicator or sleeve labeler. The sleeves are then held in place by shrinking them using hot air or steam from a heat tunnel. Labelette manufactures a variety of shrink sleeve labelers / sleeve applicators and heat tunnels for both full body sleeve labeling and tamper evident bands.
Sleeve Labeling and Safety Sleeve Banding Machines are a new addition to the Labelette line of products. These items were added to the Labelette brand with the acquisition of American Packaging Products and its line of sleeve labeling equipment and Phase Fire heat tunnels. 
Labelette's Labeling Machines 
AccuSleever
provides accurate and efficient temper evident banding. Printed shrink sleeve labels are a great way to add high impact color labels onto your container. Labelette's AccuSleever is a compact-c frame design; servo powered and has a powered height adjustment. The AccuSleever can run film ranging from 16mm – 150 mm Lay Flat by 16mm – 200mm Cut Length. With Tamper evident seals you have the option of perforations for easy removal, multi pack bundles and attention to color and detail.
Labelette's SL1
series sleeve labeling machines are automatic shrink film sleeve applicators that can apply both tamper evident bands and full body sleeve labels. They are designed to handle a wide variety of container sizes and speed ranges. With an H Frame design, mounting to an existing or crowded conveyor line is accomplished with ease. Features include touch screen controls; servo drive motors, film registration, and high speed film apply wheels. Advantages include the highest efficiencies in the market, reduced consumables due to high accuracy of sleeve placement, and quick change over time with low tooling cost.
Labelette's SL2
Sleeve labeling machines are designed to handle high-speed applications. These machines feature a B frame design. This design has all of the advantages of the SL1 series machines but it is capable of much higher speeds and larger container sizes. These machines can dispense up to 600 sleeves per minute in tamper evident shrink bands and 450 sleeves per minute in full body sleeve labels without customization. Options include multiple film rolls with splice detect, Vision inspection with automatic rejection, Horizontal and Vertical Perforations, Date Coding, and shaped film bullets. Shaping the film bullet allows the customer to reduce the film that uses shrink sleeve labeling with full body or safety sleeve banders that can reach speeds of 600 containers per minute, in conjunction with technologically advanced heat shrink systems.