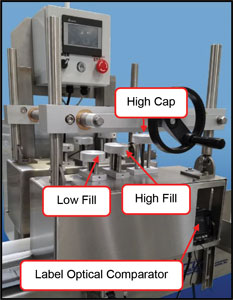 Inspection-Rejection Station
Accurate level inspection of filled and sealed containers is a major issue for bottling industry quality management systems. Fill level variance is often specified by consumer protection agency regulations that cannot be ignored. These same regulations address the need for secure closures to prevent tampering or product contamination. Containers on the shelf must also be cosmetically perfect. Labels that are wrinkled, tilted or out of position cannot be tolerated in a competitive retail environment. Checking each container for fill level, closure integrity, and labeling issues is a challenge.
Current bottling lines process as many as 200 containers a minute. There are four different issues to check with each container requiring 800 inspections per minute. A bottle can be rejected for incorrect product levels, problems with the bottle closure, and missing or misplaced labels. It is impossible for a human operator to perform that many inspections. Accutek uses optical sensors, image comparators, and digital processing to solve these quality control issues.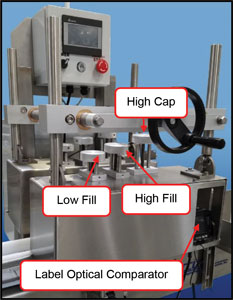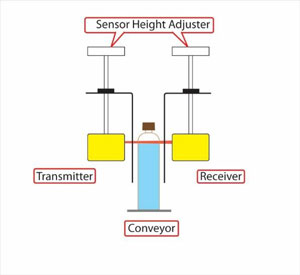 The Accutek Inspection and Rejection machine incorporates all of the electronic wizardry needed to inspect your production line output at speed.  
This product performs checks for low fill, high fill, high cap and label placement. Fill levels and cap placement are checked by three separate optical sensors. A camera with a built in optical comparator checks label placement.
The optical sensors have a transmitter and receiver. The transmitter height is set to determine the fill or cap level and the receiver height is adjusted to see the beam transmitted.
The optical comparator is an amazing bit of technology all by itself. During setup a container with a good label is presented to the camera. The operator then tells the camera what areas to check and establishes tolerance parameters for different areas in the picture. The comparator sends a fault signal to the processing logic when the label being inspected does not match the specification for a good label. 
The program logic keeps track of each container as it passes through the row of sensors. A fault signal from any one of the four sensors will cause the container to be rejected. Rejected containers are pushed out of line by a pneumatic ram located just downstream from the inspection housing. The inspector can track up to three containers passing through the inspection stations. It is this ability to have multiple containers in inspection at the same time that gives this machine its high speed capability.