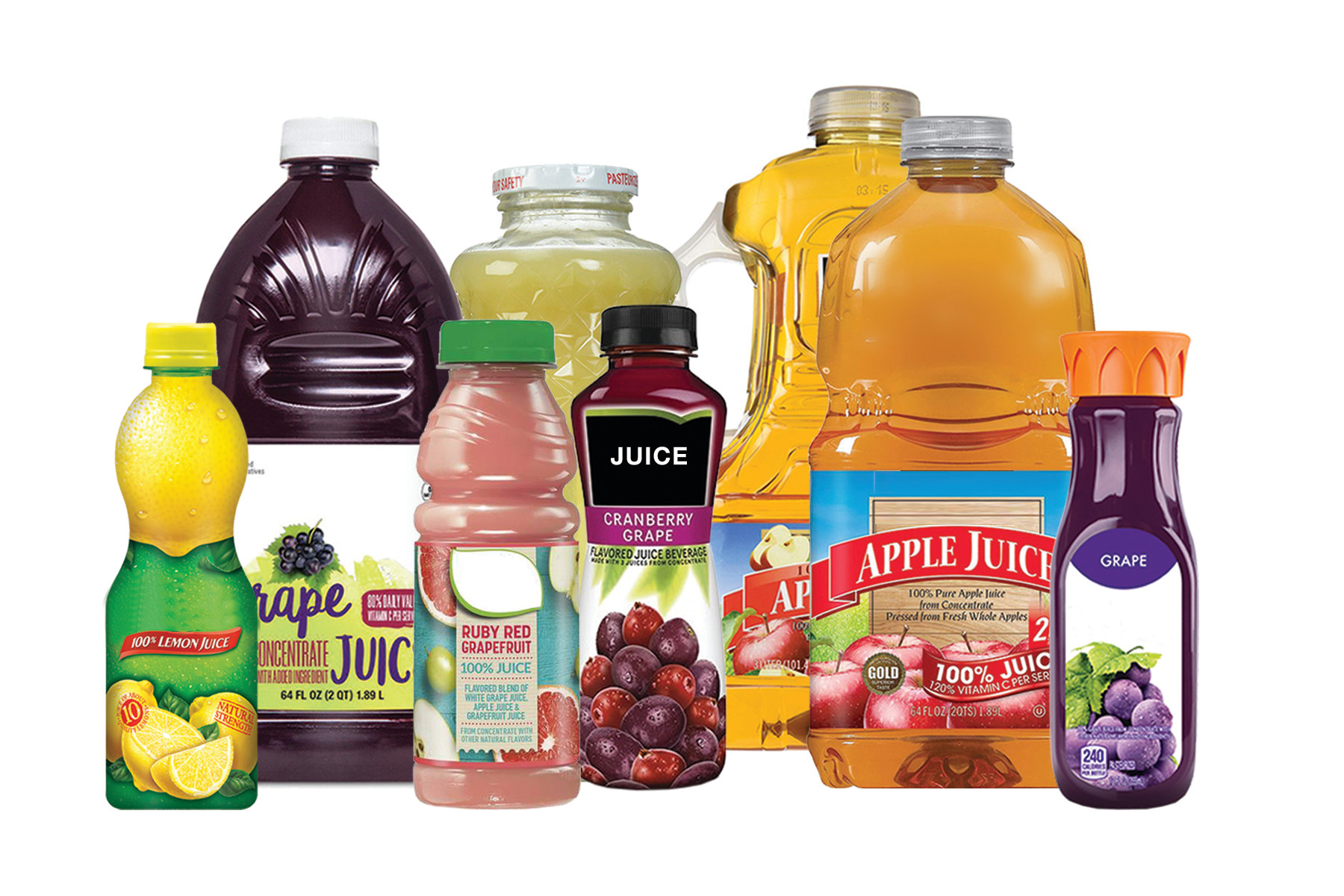 Fruit Juice Filling Machines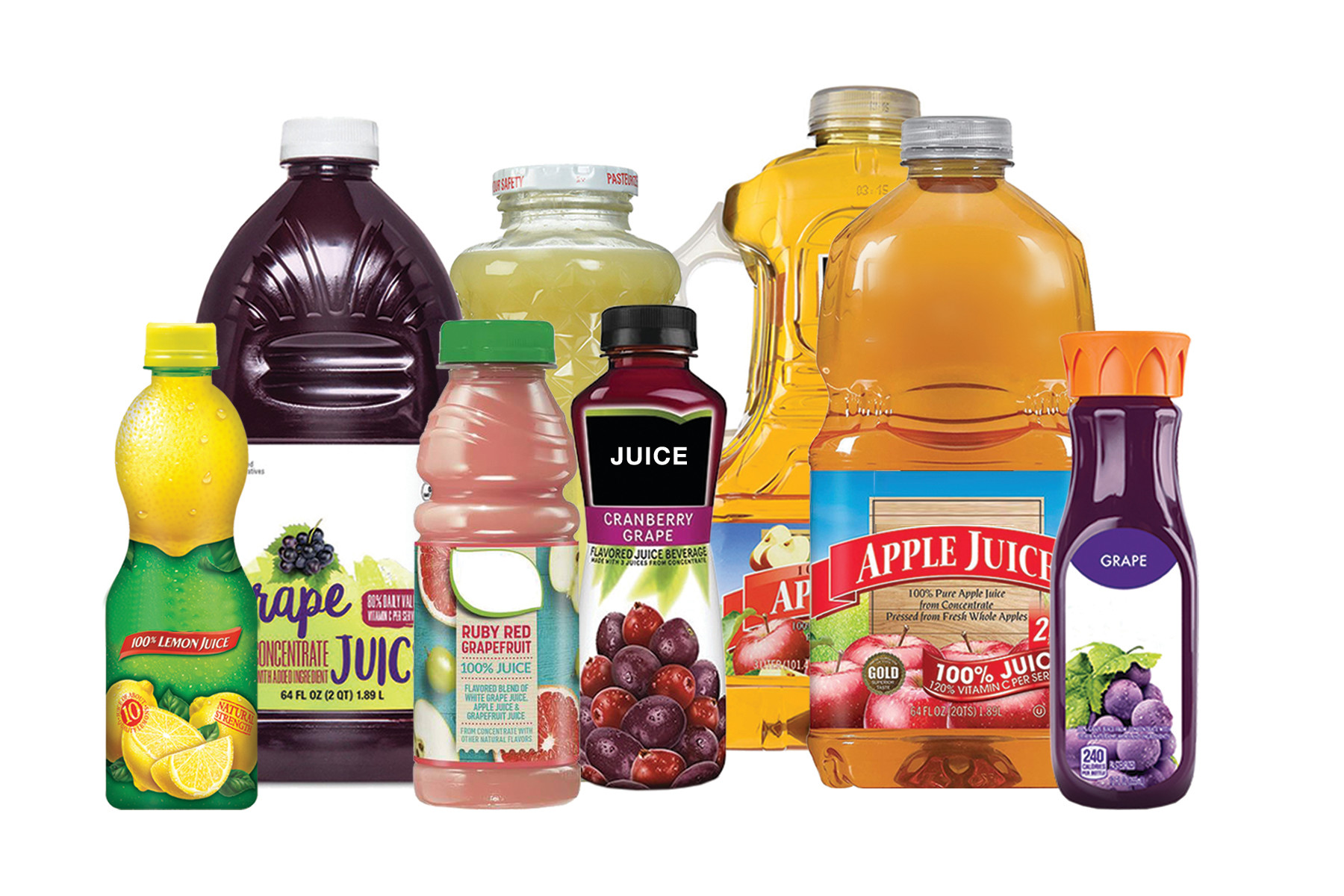 Fruit Juice Filler Technology Choices
Accutek fruit juice filling machines can use one of four technologies to fill a container with a measured amount of juice; timed flow, fill to level, piston, and metered flow. Timed flow fillers are less complicated and, therefore, more economical with consistently accurate doses. Fill to level or overflow fillers make filled bottles appear to be filled to the same level on the retail shelf. Positive displacement pump fillers are noted for accurate and repeatable fills.
Timed Flow Fillers

Accutek timed flow fillers work well with fruit juices. There is an entry-level machine, the Mini Pinch, and the top of the line Auto Pinch that can fill up to twelve containers per cycle.
The Mini-Pinch is a filling machine best suited for filling aqueous solutions and thin oils. The Mini-Pinch is a six-head, timed flow volumetric filler with a fill rate of up to six ounces per second. An experienced operator can fill up to two thousand five hundred bottles per hour; it is also highly accurate even when filling 10 ml. Bottles. Pinch valve filling machine product contact parts can be autoclaved for easy cleaning.
The Mini-Pinch comes complete with an adjustable tabletop stand, fill wand, and individual flow controls. Six stainless steel fill nozzles, silicone or vinyl food grade tubing, pinch valve system with an easy to operate microprocessor make this an ideal low volume, entry-level fruit juice filler.
Accutek also manufactures a custom Mini-Pinch filler for high VG concentration E-Juice or fill sizes above 30ml. This Mini-Pinch features a larger four port manifold and nozzle upgrade. This enables the Mini-Pinch to efficiently fill thicker solutions at a high rate of speed. This custom Mini-Pinch can be specified at the time of purchase. There is also a retrofit kit available for existing fillers. A customized Mini-Pinch is perfect for Chubby Gorilla, larger unicorn, or larger plastic or glass containers for E-Juice.
Piston Fillers

If your juices contain pulp, Accutek piston fillers, semi-automatic and automatic, will reliably fill your containers with the correct amount of product. The piston diameter and the stroke length set the volume of product pumped into a container. Accutek SVF machines fill a single bottle at a time. The fully automatic AVF machine fills twelve containers per cycle with automated container handling.
Accutek's piston filling machines are best suited for filling thicker products and products with pulp. Our piston fillers can be used to fill thin products as well. All our piston filling machines have a heavy-duty stainless steel frame with all product contact parts made of food grade materials.
Fill to Level

Accutek's Semi-Automatic Pressure Overflow Filler (SAPOF) is well suited for filling liquids with low to medium viscosities and is perfect for products that foam. The versatile SAPOF machines are versatile fillers able to accommodate various container shapes and types, such as rigid plastic, metal, or glass. These machines can handle fill sizes from ounces to gallons for fruit juices and other beverages.
Automatic models have a heavy-duty stainless steel frame, a 10′ long, 4 ½" wide, variable speed conveyor, six stainless steel positive off nozzles, a diving head, and an automatic bottle-indexing unit. The machine can be moved from one filling line to another in a matter of minutes with its locking casters to accommodate different existing containers, labeling, and capping setups.
Accutek's overflow filling machines are best suited for filling liquids with low to medium viscosity. These fillers are most ideal for filling foamy products at higher speeds. Our overflow filling machinery can fill products such as sauces, syrups, light gels and shampoos, foamy cleansers and chemicals, water, fruit juice, wine, tea, and other noncarbonated aqueous beverages.
Completing a Fruit Juice Filling Line

You will also need a cap orienter, capper, and labeler after the juice filling machine. Conveyors and turn tables that move containers between machines are also needed. Accutek manufactures several different model machines for each function, providing our customers with the best solution for packaging their products. All contact surfaces are 304 or 316 stainless steel, making our machines corrosion resistant and easy to sanitize.
Accutek is a one-stop-shop supplying our customers with a complete packaging line, installation, and service with a single purchase order. We supply liquid filling machines for juice, water, beverage, dairy, brewing, distilled spirits, wine, pharmaceutical, nutritional, industrial cleaners, household products, and chemical industries. Every component of the complete packaging line is rigorously tested during the line integration process. Customers can come to Accutek for factory acceptance testing before carefully crating and shipping their order from Vista, California.
Contact your Accutek sales engineer to help you choose the best Accutek liquid filler for your fruit juice products. Combining our products and services can help make your fruit juice packaging process more profitable for many years