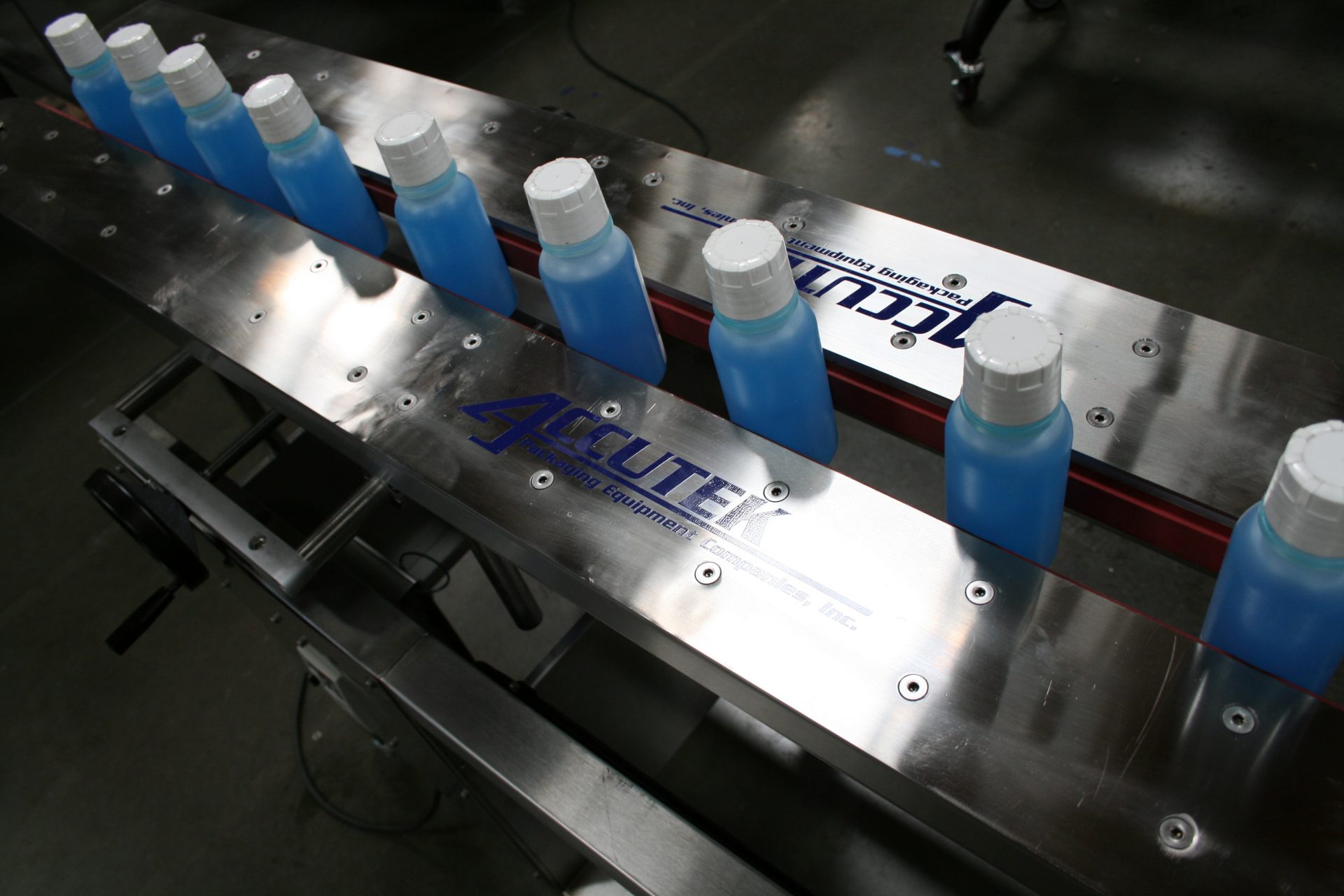 Accutek Bottomless Conveyor
The Accutek bottomless conveyor is one of our most versatile, best selling and low cost machines we manufacture. This machine in most cases is available to be completed and put into shipping in less than one business day. Bottomless conveyors are used to provide a smooth and stable transfer of containers up to 2 ½ gallons between machines or around corners, allowing access to the bottom of a container. Allowing access to the bottom of containers is required, when it used in conjunction with an ink jet or laser coding machine applying date and lot coding. Accutek bottomless conveyors are compatible with most ink jet and laser coding machines. The bottomless conveyor can also be used when a packaging line needs to be reconfigured. The bottomless conveyer can join two conveyors, or machines together to create a simple low cost transfer solution. Bottomless conveyors can also be used to transfer containers around corners by staggering their belts ninety degrees and reduce costs in having to purchase a curved conveyor.  
Accutek's sturdy and user friendly design allows our machine to be modified by using several different belt options. The gripper belt assembly choices include, single one inch width, double gripper belts and our one half inch low profile belts for small containers. The gripper belts can be adjusted in minutes to meet most conveyor heights in the packaging industry. The width between the two belts can be adjusted in seconds, utilizing the convenient rotating handle on each belt assembly that controls each belt assembly individually. The gripper belt assembly can be tilted inward or upward to help in controlling of the container for specific needs of the customer. The gripper belts are powered by two AC motors, controlled by a programmable variable frequency drive that controls speed and torque.
Accutek's commitment to quality control and craftsmanship in our manufacturing process ensures that we are using the finest stainless steel and aircraft grade aluminum parts, in the assembly of our bottomless conveyors. Accutek's craftsmanship provides a longer service life, for years of use and wear parts are readily available for next day shipment.
Author: Warren C Sublett
Corporate Production Manager at Accutek Packaging Equipment
published Feb. 17, 2020